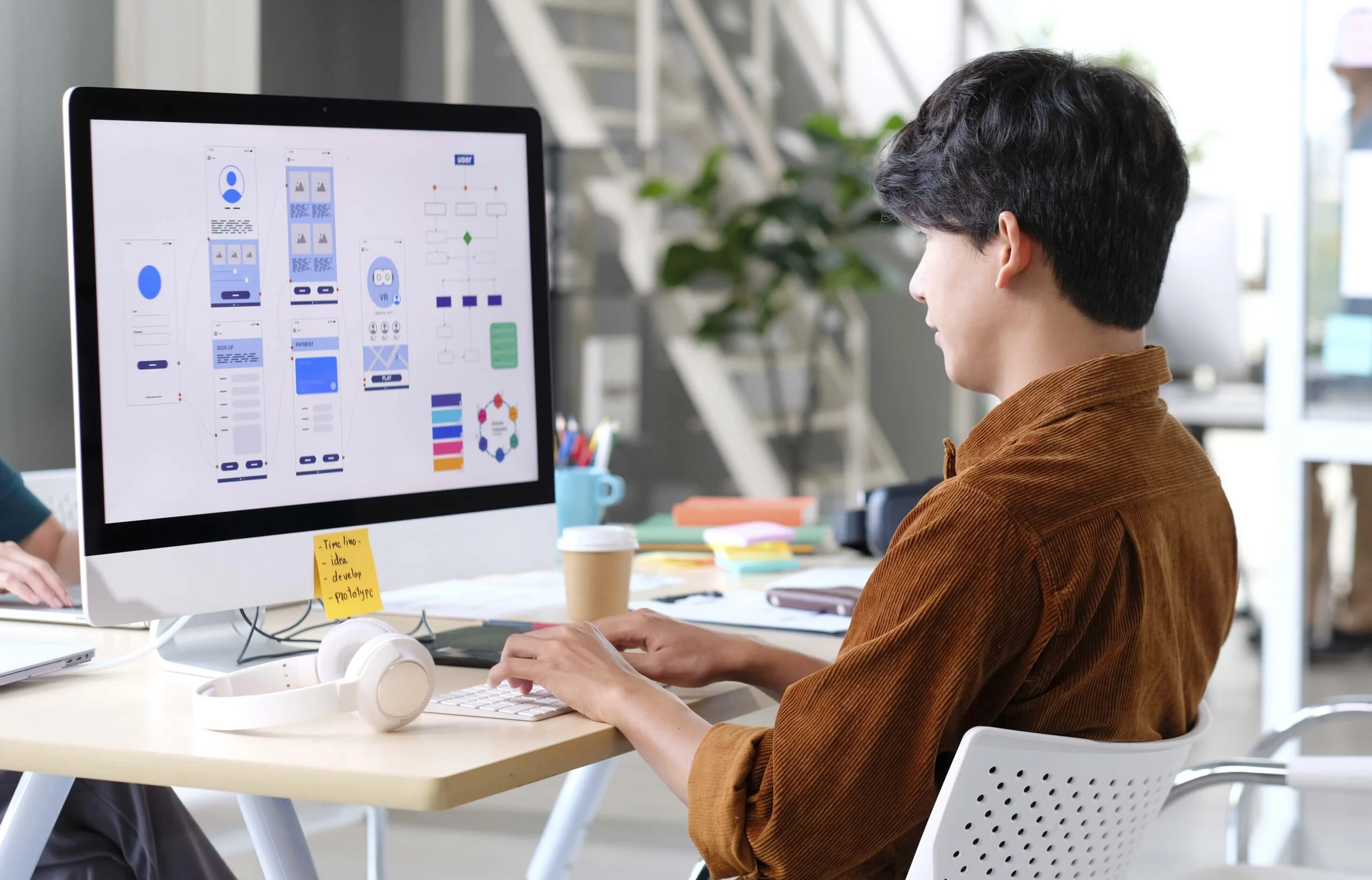 At our company, we believe that user experience (UX) and user interface (UI) design are essential components of any successful digital product or service. We understand that a well-designed and intuitive user interface can significantly enhance user engagement and satisfaction, leading to increased conversions and overall business success.
Our team of talented and experienced UX/UI designers is dedicated to creating exceptional digital experiences that cater to the unique needs and preferences of your target audience. Whether you are a startup looking to establish your brand identity or an established company seeking to revamp your existing digital presence, we are here to help you achieve your goals.
With our UX/UI Designing Service, we follow a comprehensive and user-centered design approach. Our designers conduct in-depth research and analysis to gain a deep understanding of your target users, their behaviors, and their expectations. This research serves as the foundation for creating a design strategy that aligns with your business objectives while delivering a seamless and delightful user experience.
We begin the design process by crafting wireframes and prototypes that outline the structure, layout, and navigation of your digital product. These initial designs serve as a blueprint for the development phase and allow for early user testing and feedback. We value collaboration and involve you in every step of the design process to ensure that your vision and requirements are met.
Once the wireframes and prototypes are finalized, our team of skilled designers brings them to life by focusing on creating visually appealing and intuitive user interfaces. We pay meticulous attention to every detail, from color schemes and typography to iconography and imagery, to ensure that your digital product reflects your brand identity and resonates with your target audience.
Accessibility and usability are at the forefront of our design philosophy. We strive to create designs that are inclusive and accessible to all users, regardless of their abilities or devices. Our designers are well-versed in best practices and standards for accessibility, ensuring that your digital product adheres to WCAG (Web Content Accessibility Guidelines) and provides a seamless experience for users with disabilities.
In addition to aesthetics and functionality, our UX/UI Designing Service also focuses on optimizing the performance and speed of your digital product. We understand that slow-loading pages and clunky interfaces can deter users and negatively impact your business. Therefore, our designers employ optimization techniques to deliver fast and responsive designs that keep users engaged and satisfied.
Customer satisfaction is our top priority. We believe in building long-term relationships with our clients by providing excellent service and delivering designs that exceed expectations. We maintain open lines of communication throughout the design process and welcome feedback and suggestions to ensure that your vision is fully realized.
Contact us today to discuss your design requirements and embark on a journey towards creating exceptional digital experiences that will leave a lasting impression on your users. Let us help you elevate your brand and achieve success in the digital landscape.
Transforming user experiences through exceptional UX/UI design solutions.
User-Centered Approach: We prioritize understanding user needs and behaviors to create intuitive and user-friendly interfaces.
Visual Excellence: Our designs combine aesthetics with functionality, ensuring visually stunning and engaging user experiences.
Seamless Interactions: We focus on creating smooth and effortless interactions that enhance usability and delight users.
Iterative Design Process: Our collaborative approach involves multiple iterations and feedback loops to refine designs and achieve optimal results.